On the prowl
Bigger, stronger Reed ready to build on breakout sophomore campaign
Posted on 07/18/2011 by PonyFans.com

Sit in on a football team's film session, and the dialog is likely to include analytical breakdowns by coaches and players, as well as good-natured teasing. A receiver who drops multiple passes could get ribbed for inconsistent hands, while quarterbacks who run too much sometimes get accused of "hearing footsteps."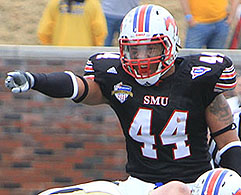 Defensive coordinator Tom Mason said linebacker Taylor Reed will make many of the calls for the SMU defense in 2011 (photo by David Mojica).
Walk past a film session for the SMU defense, and defensive coordinator Tom Mason can be heard accusing linebacker Taylor Reed of "sniffing socks."Huh?As a defensive coordinator, Mason is a strategist and teacher who expects perfection from his players in technique and execution. When he chides Reed with the "sniffing socks" label, what he really is doing is mocking Reed for hitting a ball carrier too low.Mason and Reed both know that ultimately, as long as the play is stopped and the ball carrier ends up on the ground — or better yet, coughs up the football — it doesn't matter whether the tackler initiates contact at the ball carrier's shoulder pads or shoe tops. But defensive players, especially linebackers, sometimes can affect an opposing offense by the way in which they tackle as much as by merely making the stops."We used to tease him in meetings, always talking about how he tackles at the lower part of the legs," Mason said. "Now he sometimes tackles high. When you go low all the time, we talk about that as 'sniffing socks.' It gets the guy on the ground, but there's a mentality involved with playing linebacker. If you can go high and really hit someone hard, that can send a message. When he got here two years ago, he wasn't even 200 pounds. Now he's up to 230. He can really hit some people, and I think we'll see more of that this year."Reed smiled when asked about the "sniffing socks" accusation, and said he "choose his battles" when deciding whether to wrap up a ball carrier around the legs or go for a highlight-reel knockout blow."It's definitely a mentality, but at the same time, you do what you're good at," Reed said. "Besides, JG (fellow linebacker Ja'Gared Davis) is better at big hits. As long as you get the guy on the ground, it doesn't matter how you get him there."Mason might say he wants Reed to hand out more punishment, but if he seems demanding, it's only because he is so impressed with what he already has in Reed, who took over in 2010 as the Mustangs' starting MIKE linebacker. All Reed did was step into the considerable void left by Chase Kennemer's graduation and become one of the top tacklers in all of college football."He was fourth in the country in individual tackles, I think (actually fourth in individual tackles per game, with an average of 7.21, and tied for third in total individual tackles, with 101)," Mason said. "The MIKE, in our system, is kind of a glamour position. The last three guys we had there — Will Bonilla, Chase Kennemer and now 'T-Reed' — those are some really good football players. "The system is designed for the guy at that position to make a lot of plays, and they all have, but when you get into the top 10 in the country in solo tackles, like 'T-Reed' did last year, that's just freakish."Replacing Kennemer in the SMU defense was no small task. In 2009, Kennemer collected 135 (85 solo) tackles, 49 more than any other Mustang. In addition, Kennemer was the player often referred to as "a coach on the field," a player who knew his teammates' assignments and made many of the calls for the defense. In leading the SMU defense in tackles in 2010, however, Reed added 44 assisted tackles to his 101 solo stops for a team-high 145 tackles."I knew he was going to be a great one," Mason said. "People said we were going to miss Kennemer, but I told them we weren't going to miss Kennemer at all. That's not to say Chase wasn't a great player — he was. But I told them we had a better one waiting behind him."Taylor has natural instincts. He had the quickness that the prototype players at that position have. He took the approach that Kennermer was like his older brother. Chase knew everything about the defense, and about the offense, and I think Taylor wanted to be like him. Chase would even tell you that Taylor was going to be better."A speedster who had a team-high nine sacks last season and a penchant for the spectacular play, Davis is the Mustang linebacker who dazzles media and fans, and causes sleepless nights for opposing offensive linemen. But according to Mason, the productive, sometimes punishing Reed is as important as anyone to the Ponies' defense."He's one of our leaders," Mason said. "He hasn't been in the role of making calls before — we always let (2010 seniors) Pete (Fleps) and Youri (Yenga) do it — but now it's Taylor's turn. We ask our seniors to take ownership of our defense, so guys like Richard Crawford, Chris Banjo, Taylor Thompson, Marquis Frazier … we expect them to be our leaders. But we expect T-Reed to be right there with them."I think he'll have a better year this year. You never know how a year is going to unfold, but I have very high expectations for him. He has shown the kind of ability he has, but the next step now is to see how he handles some success, because he played early, and he had some success. He played some as a freshman, and then he started for us last year and had a lot of success. Teams are going to devise schemes to block him this year, so we'll see how he handles that this season."
AIM HIGH
Mason's expectations for Reed mirror the expectations many have for the Mustangs' entire defense in 2011. The starting lineup in the Ponies' opener Sept. 4 at Texas A&M could be made up entirely of juniors and seniors, many of whom have earned all-Conference USA honors in the past or appear on preseason awards lists this year.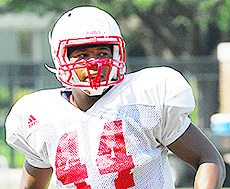 Taylor Reed hopes to play this season at his current weight of 230 pounds — about 35 more than he weighed when he arrived as a freshman (photo by Webmaster).
"We can be as good as anyone," Reed said. "We can have a top-25 defense, and it always starts up front. You look at Taylor Thompson, Marquis Frazier, Margus Hunt, now
with 'Pitt' (nose tackle Torlan Pittman) back
, we have the potential to be one of the best."Reed acknowledged that the Ponies' 2010 defense wasn't as opportunistic as the 2009 version, but said that is a trait that can be corrected."The turnovers weren't there like they were the year before (the SMU defense had 15 takeaways in 2010, down from 28 the year before)," Reed said. "It seemed like last year, every fumble went to the other guys, every tipped pass went to someone on the offense, or at least hit the ground. The year before, a lot of those bounces went our way. That's part of football — sometimes it just happens like that. There's a lot of luck involved, but there also are things we can do better. More than anything, we have to get back to swarming the ball better. Everybody has to run to the football, not give up on plays. Then, when a cornerback tips a ball up, there's a safety or linebacker there to pick it off."The whole defense has to run to the ball. The coaches stress that so much — when we watch the film, and a tackle is made, there should be nine or 10 guys in the picture. I think maybe we got away from that a little last year. It's not that we weren't hustling and working hard, but we didn't have that swarm that we had in '09. We need to get that back, because if we do, with the talent we have and with Coach Mason opening up his playbook even more, we have a chance to be really good on defense."Reed said the Mustangs' veteran defense not only has the experience to perform at a high level in 2011, but also should allow Mason to be more creative with his defensive calls."Coach Mason can open up his defensive packages even more, because we've got experience, we know the system pretty well now," Reed said. "He and the other coaches have faith in us, so we'll be able to run more blitzes and create more chaos. They can trust us more to do what we're supposed to do."

Previous Story
Next Story

| | |
| --- | --- |
| | Jones hoping to claim starting SLB spot |

| | |
| --- | --- |
| | Sterling Moore signs with Oakland Raiders |