Another 'Coach Jones'?
Back injury has former linebacker exploring new role
Posted on 04/13/2012 by PonyFans.com

Part of the goal when teams convene for spring workouts each year is the determination of who should move in to new roles.Beginning a new job for the SMU Mustangs this spring is Victor Jones. A starting outside linebacker at the beginning of the 2011 season, Jones now finds himself volunteering as an assistant coach. After the Mustangs' game at Tulsa, bulging discs in his back ended Jones's playing career.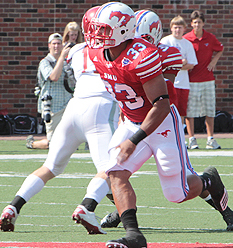 Former linebacker Victor Jones is now volunteering with the coaching staff after his playing career was cut short by a back injury (photo by Travis Johnston).
"I had discs bulging out around my L-1 (first lumbar vertebrae)," Jones said. "I couldn't bend down. I sometimes had trouble breathing."When his foot felt cold and went numb, Jones headed to the SMU training room. "I got in at 5 a.m.," he said. "They put ice on it to cool the nerve down. That Monday, after the Tulsa game, I couldn't bend. I couldn't go to sleep. All I could do was just sit."Jones said he was conflicted about the decision to end his playing career, but after extensive consideration, the choice wasn't that tough after all."I always wanted to come back (and play)," he said. "I love playing football, so I wanted to rehab and get back on the field."But I also want to be able to play with my kids one day."Jones said he was encouraged by defensive coordinator Tom Mason and head coach June Jones to give coaching a try."Coach Mason told me I really know the defense, and he thought I could help," Jones said. "Coach Jones asked me about how I would feel about coaching. He said if I wanted to try it, he would help me, and that he thought I could be good at it."So Jones now patrols the field with the rest of the team during each practice, helping Mason and linebackers coach Joe Haering run drills for the linebackers or for the entire defense. Jones said he didn't arrive at SMU with aspirations to coach — he'll graduate in December with a degree in economics — but Mason and June Jones were not the first to see his potential as a coach."My high school coaches said they thought I would be a good coach one day. I figured if I was going to do that, I'd have to get an education degree and coach in high school. I didn't realize coaching college might be an option."I didn't want to stop playing. I wanted to be a part of the team, to keep going what we started in Hawaii (when SMU blasted Nevada in the 2009 Sheraton Hawaii Bowl)."Jones said that if he pursues coaching beyond this season, one of his first adjustments will be getting used to his new relationship with the players on the team."I'm still friends with everyone, of course, but if I decide to be a (graduate assistant) somewhere, I'll have to get out of that mentality," he said. "I'd be the same age as some of the players. You have to earn their respect, and that could be tough, but you have to distinguish yourself if this is what you want to do later in life."That Tulsa game being my last game (as a player) — that's heartbreaking. But now I can only do what I can do. I give my input (to Mason and linebackers coach Joe Haering) and help with whatever the coaches need."Part of his inspiration, Jones said, gomes from former SMU special teams coach Frank Gansz, Sr."I think about Coach Gansz, Sr.," Jones said. "He always stayed positive — always. He made a huge impression on me, and on the other guys who knew him. The change in his relationship with his former teammates also gets tested at home. Jones lives with nose tackle Torlan Pittman, and his neighbors include linebacker Taylor Reed and safeties Chris Banjo and Ryan Smith. Thus far, he said he has not yet asked them to refer to him as "Coach Jones.""No, not yet," he said, laughing. "There's only one Coach Jones around here."

Previous Story
Next Story

| | |
| --- | --- |
| | Back early from surgery, Dieter getting crash course in college game |

| | |
| --- | --- |
| | Defensive end making sure he's ready for fall by sitting out spring |