Guarded optimism
Kelvin Beachum, Jr., sees Steelers as perfect fit
Posted on 05/01/2012 by PonyFans.com

As the picks in the seventh round of the 2012 NFL Draft clicked off, SMU offensive lineman Kelvin Beachum, Jr., got a phone call from his former offensive line coach, Adrian Klemm, who was checking in on his former pupil. While the two were talking, Beachum's phone beeped, indicating another call.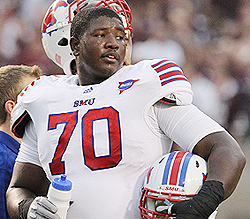 Kelvin Beachum, Jr. said he is looking forward to connecting with former SMU teammate Emmanuel Sanders for advice when he joins the Steelers (photo by Travis Johnston).
"It was (Pittsburgh Steelers head) Coach (Mike) Tomlin," Beachum said. "The Steelers knew I'm involved on campus, so he said, 'you don't have a board meeting next weekend, do you?' I said, 'no, sir,' and he said, 'good — then we'll see you next week. We're drafting you.'"So ended a long wait for Beachum, the decorated SMU offensive tackle who will slide inside to play guard in Pittsburgh. "It didn't really sink in until after the (SMU football) banquet (Saturday night)," Beachum said. "It got to be late in the day, late in the draft, I was trying to get to the banquet on time … But when the banquet was over and I got home, I had over 40 missed calls, my voice mailbox was full, I had over 200 text messages. It was a wonderful night."Beachum said he didn't get too frustrated by getting chosen in the seventh round. "I was confident that something good would happen," he said. "At the same time, you have to be realistic, so I started to weigh my options. I embrace adversity, and my chances were starting to look a little weak. There weren't many picks left. "Coach (June) Jones always teaches 'one snap and clear' — whether a play goes well or goes badly, you have to erase it from your mind and focus on the next play, on what lies in front of you. So when the sixth round came and went, it was 'one snap and clear' for me."The fact that he was chosen by the Steelers, Beachum said, was perfect … much to the chagrin of his father, a staunch Dallas Cowboys fan who was none too thrilled that his young son rooted for Pittsburgh."My dad had times when he was (upset) that I wasn't for the Cowboys," Beachum said, laughing. "But you have to realize: I'm a very structure- and discipline- and family-oriented person. I'm all in to stability in everything I do, whether it's football or my schoolwork. "I understand the things that can knock you off course, so you can't help but love that type of organization. The Steelers are a team that has a professional culture. They're rich in history, they're rich in tradition. They're a team that other organizations — not just in football, but in all sports — look up to. So being the kind of person I am, it's truly an honor, truly a privilege … I consider it being favored by God to be with the Steelers."Until he was selected, he wasn't sure Pittsburgh would be his new home, because he was receiving calls from several teams."Tampa Bay had been talking about drafting me)," Beachum said. "People were fighting for me in the organization, but still is the (general manager) or someone pulls the trigger. (Offensive line coach Bill) Callahan from the Cowboys called, and said that if I was on the board late, they might take me. The Falcons, the Jaguars, the Titans, the Eagles — several teams said they were interested. "There is one thing that made me feel good about the whole situation: the Eagles' offensive line coach (Howard Mudd) said there are undrafted offensive linemen and late-round offensive linemen who have been inducted in to the Hall of Fame."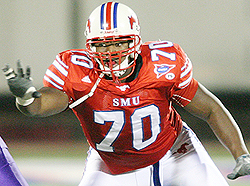 Former SMU tackle Kelvin Beachum Jr. expects to play guard with the Pittsburgh Steelers (photo by Travis Johnston).
Beachum quickly pointed out that he is not making any assumptions about future accolades. He said he is grateful for the way the draft worked out, and that the outcome was worth the wait."You have to keep everything in perspective," he said. "I was successful at SMU, but I know I'm not the prototypical NFL offensive lineman. I don't have all the attributes you're supposed to have. But I played four years at tackle, and I have got that on film. I know I can play football."It was like a football game. You know what you want that final outcome to be, but you don't know how it's going to end up. My mom said it's like a baby — it's going to come when it's full term, but you can't tell that baby when to come. That's what this experience was like for me. I knew something good was going to come out of it, but I didn't know what, or when. But going to the Steelers is a blessing. It's a perfect fit."When he gets to Pittsburgh, Beachum will see one familiar face in the locker room, where former SMU star Emmanuel Sanders is a receiver for the Steelers. Beachum said he plans to rely heavily on his former and future teammate as he gets acclimated to his new employer."I won't be staying on Emmanuel's couch, but I will be picking his brain about how to be successful there," Beachum said. "Even though he's a receiver and I'm a lineman, he knows the coaches, he knows what they like from their players. "Am I happy to be a Steeler? Yes, I am. Am I excited to be a Steeler? Yes, I am. By getting drafted, I have my foot in the door and I'm able to compete for a job. That's all I need."

Previous Story
Next Story

| | |
| --- | --- |
| | LeRibeus eager to help turn around Redskins |

| | |
| --- | --- |
| | Crawford sees versatility as key to landing roster spot with Redskins |