How Swede it is
Former SMU defender headed to Sweden to start pro career
Posted on 07/23/2012 by PonyFans.com

Coaches often tell recruits that a professional career does not hinge solely upon the player's choice of school.
If you play well enough, the pros will find you.
Case in point: former wide receiver Cole Beasley. The diminutive wideout was barely recruited out of high school, but had a very productive career at SMU and then parlayed a strong performance at a workout for local players in to a free-agent contract with the Dallas Cowboys.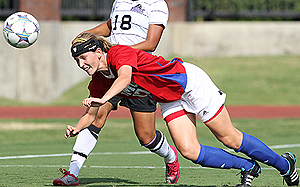 Former SMU defender will dive in to her professional career at the beginning of August after signing with a professional team in Sweden (photo by SMU athletics).
But a better example might be Kaitlyn Eidson. The three-time All-Conference USA honoree, a defensive anchor for the SMU women's soccer team for the last four years, will fly overseas at the end of July to begin her professional career with Östersunds DFF in Sweden's Second Division."I always had in the back of my mind that I wanted to keep playing after college," Eidson said. "I have a friend at home (in Katy, Texas) who played for North Carolina State, and she had offers to play overseas. She said that if I wanted to, she would get me in touch with her agency: Connect World Football. They take highlight tapes and show them around to club teams, and if a club shows interest, you send them a couple of full games. So that's what I did. I made up a highlight tape and sent it to (the agency), and Östersunds DFF showed interest in me."Eidson has never been to Sweden and knows little about the town of Östersunds, which is almost 350 miles north-northwest of Stockholm. The town, with a population of about 60,000, sits on the edge of Storsjön Lake and is known for its cross-country skiing. She said she likely will live with teammates or a host family, as arranged by the club.She also knows little about the team itself. She has been in touch with head coach John-Rune Wikén and the team's general manager, and while Östersunds DFF has lost a center back to an injury, Eidson has been given no promises about playing time or her role when she joins her new team."I don't know a lot about them yet," said Eidson, who expects to be used as a central defender, just as she was at SMU. "I assume they play a 4-3-3 (four defenders, three midfielders and three forwards) — that seems to be popular in the higher levels of play. The 4-4-2 is easier to teach, but the 4-3-3 can offer more of a tactical advantage if you play it correctly."Östersunds DFF has yet to lose a game this season, with just two ties between the club and a perfect record. The season has been interrupted by a break for the Olympics, and has eight regular-season games remaining, seven of which take place after Eidson's contract begins Aug. 1.The soccer leagues in Sweden operate much like the Premier League in England, in which teams are promoted and demoted between divisions based on their records from the previous season. In the best-case scenario, Eidson said she sees herself making an impact with her new team for the rest of this season … and beyond.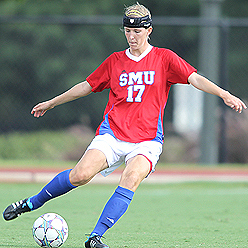 Eidson was a four-year starter at SMU and earned All-Conference USA honors three times (photo by SMU athletics).
"Three months is a good trial period," she said. "If I get over there and I'm miserable, it's only three months. Ideally, I'll play well, we'll play well, we'll get promoted to the top division and they'll ask me back."While the move to Östersunds will allow Eidson to extend her playing career, it also will strengthen her preparation for what she hopes will be the next step in her soccer career once her playing days are over: coaching."Another reason I was interested in going to Östersunds was to help build my résumé for coaching," said Eidson, a history major with a minor in education. "I'm hoping to jump in to the college game when I'm done playing."I have known I wanted to coach for a long time — I have always wanted to coach and teach. I knew I wouldn't be able to give up the game. It always had to be a part of my life."Eidson said her family already is planning to travel to Östersunds to watch her play. Her hometown of Katy, Texas, is just outside of Houston, and her family regularly drove about four hours up I-45 to see her play during her career with the Mustangs."In a way, I don't even feel like I went away for college," Eidson said. "I'm from (just outside of) Houston, and my parents came to a lot of my games, as many as they could."This is different. I definitely want to pursue this opportunity to keep playing, but also to see the world. I'm getting the opportunity of a lifetime, to be able to travel around the world to keep playing."

Previous Story
Next Story

| | |
| --- | --- |
| | Healthy again, Gottschalk ready to go after starting tackle position |

| | |
| --- | --- |
| | Transfer QB talks about learning SMU offense, new teammates, shoulder health |