PonyFans.com Q&A … with Garrett Gilbert
Transfer QB talks about learning SMU offense, new teammates, shoulder health
Posted on 07/25/2012 by PonyFans.com

Few student-athletes have raised PonyFans' curiosity before ever playing a game — or even participating in a practice — than quarterback Garrett Gilbert, who transferred to SMU after graduating a year early from Texas. Gilbert has spent the summer running, lifting weights and throwing with his new teammates in an effort to get ready to compete for the starting job when SMU's preseason workouts open in early August, and visited with PonyFans.com to discuss his preparation for the 2012 season, from his ability to learn the Run-and-Shoot offense to his interaction with his new teammates and the strength of his surgically repaired shoulder.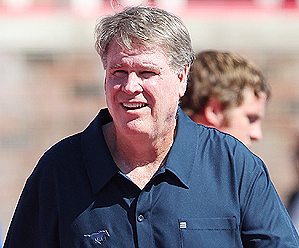 Quarterback Garrett Gilbert has been giving quarterbacks coach Dan Morrison reports on his progress in throwing sessions, but has yet to throw in front of his new position coach (photo by SMU athletics).
PonyFans.com
: How much have you been allowed to visit with (assistant head coach/offense) Coach (Dan) Morrison as you have settled in this summer and begun to learn the offense?
Garrett Gilbert
: If I'm in his office, we're allowed to talk. But when we get together for our first practice, that will be the first time he has seen me throw.
PonyFans.com
: So do you give him daily reports? "Yesterday I threw four touchdowns" or "yesterday I threw two picks…"
Garrett Gilbert
: Well, (
laughing
), I don't ever tell him about the interceptions, if there are any … No, I try to tell him every day, after we do seven-on-seven, just how it went, what we worked on and what we still need to work on and talk about more.
PonyFans.com
: So where are you in the learning process? Are you still learning plays, and who's supposed to go where on each play, or is it all about timing and comfort level at this point?
Garrett Gilbert
: Right now it's all about timing. I've been doing this every day for three weeks now, where we get out there on our own with the receivers. As guys are trying to get as healthy as possible for camp, our receivers are out there, putting in extra work every day. That's been good for us, to get an extra hour-and-a-half of throwing in every day, to just work on timing and just work on, you know … "alright, if we've got Cover 2 (defense), this is where you're going."
PonyFans.com
: The first few days when you were out there, you were reading plays off notecards. You don't need those anymore?
Garrett Gilbert
: I feel very comfortable. It just comes with time. Like I said at the beginning of the summer, I've led so many offenses now, it's about putting little pieces in. It's mainly terminology — that's the biggest difference. Obviously, this offense has some unique properties that most offenses don't have, in the options that it gives you as a receiver and as a quarterback, and that just comes with time, with us being out there on the field, working on stuff, seeing defenses and making adjustments from there.
PonyFans.com
: Do you still find yourself thinking of plays in the language you used at Texas or the terminology you used in high school?
Garrett Gilbert
: No. Actually, when I was at the Elite 11 camp (in California) last week, I was thinking of stuff in our language that we have here at SMU. So when we have plays in seven-on-seven, I'm not thinking, "OK, this is like 'so-and-so' back home."
PonyFans.com
: Who has been the biggest help, or taken on a tutor role with you as you have begun learning Coach Jones's offense?
Garrett Gilbert
: All the guys … all the veterans that have been around, that know the offense, have been a huge help, and they've all been really willing to work. Der'Rikk (Thompson), Jeremy (Johnson), Darius (Johnson), Keenan (Holman), Cole (Loftin), Ryan (Walker) … All those guys … "KG" (Kyle Guinyard) … All those guys that have been here for a while and know what they're doing — they have been able to help me at various points. It may be a little nuance, or a little detail about a route, or about a certain play, about an alignment … about "well, versus this coverage, I'm going to take an outside release rather than an inside release, in order to do this or that." There's always something that helps me learn a little bit more. Something like that will happen almost every day.
PonyFans.com
: What about the other quarterbacks? Is that weird that they're basically tutoring you to come in and compete for the same job they want to earn?
Garrett Gilbert
: No — those guys have been a great help to me. Conner (Preston) has been helpful since I met him in the spring. He came up here and coached me through some stuff when I was just trying to get a grasp on the initial parts of this offense. They've been extremely helpful. We all realize we're competing when we get to camp, but we're all on the same team. We all want SMU to go … 12-0.
PonyFans.com
: Now that you're three years older and have three years of college football under your belt, how is the learning process different now than it was three years ago when you were a freshman at Texas?
Garrett Gilbert
: Without a doubt. When you come in to college football from high school football, your understanding of the game is not as it is now. In high school, you just did routes and ran plays. Obviously, the coaches had something in mind, why you did certain plays to beat certain coverages, but as a quarterback, you didn't have that deep understanding of the offense … not the offense — I felt like I understood the offense in high school — but why we did certain things to attack the defense. But now, I understand blitzes, I understand coverages, I understand offensive line protections, I understand releases by receivers and how they're trying to get off the ball … So when I have all that stuff when I come in to an offense, it really helps.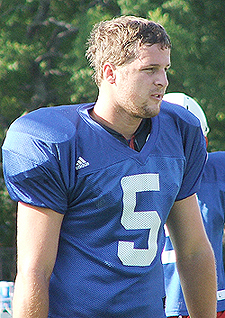 Veteran players like wide receiver Cole Loftin have taken an active role in tutoring Gilbert on the nuances of the Run-and-Shoot offense SMU runs (photo by PonyFans.com).
PonyFans.com
: You mentioned the Elite 11 camp that you did last week. What was your role there, and how did it come about?
Garrett Gilbert
: It's five or six counselors a year. When I was there when I was in high school, it was Colt Brennan, Colt McCoy, Mark Sanchez, Chase Daniel and Chad Henne. Most of the guys are going to be seniors and on their way to the draft. So when I got asked this spring, I had always wanted to come back and be a counselor. I've got two years left, so hopefully I get to go back next year, as well. But it's a fun experience. Not only do you get to go out there and share your knowledge with young kids that are in the position you were in a couple years ago, but you start learning stuff about the NFL game that can help you from coaches that maybe weren't ready to share that stuff with you when you were in high school, because they didn't want to overwhelm you or something.
PonyFans.com
: The last couple of years, you spent the summer working out with UT teammates who you already knew. Now you're going in to your fourth college season, but you'll be playing with new teammates, for new coaches, at a new school. Does that change the way you approach preseason camp, or your anticipation for the upcoming season?
Garrett Gilbert
: I like to say "I'm a freshman with three years of college experience." I'm going in to this as a new guy, but this is going to be my fourth camp. So I've been there, and camp is just part of it. No one likes two-a-days. But for me, I get the opportunity to go out and compete again, to practice again for the first time in nine months. So I'm looking forward to putting on the pads again.
PonyFans.com
: When
we talked last month
, you said you were hoping your arm and shoulder would be perfectly good to go by August … which is next week. How do you feel about the way you have been throwing this summer, and how do the arm and shoulder feel?
Garrett Gilbert
: They feel great. I tested it, and we were throwing 200, 300 balls a day at Elite 11, and I have been throwing 200, 300 balls a day here, and I felt no pain. Obviously 200, 300 balls a day gets your arm pretty tired, but it's been pain-free tired, which is good, because you can do it again. You can ice it and replenish it quicker, and that's just part of it. You've got to stretch it out and try and get it as strong as you can. Obviously, it's going to be tired, and I've talked to the coaches about that, and if I have any discomfort, I plan on telling them — there's no point in pushing it during the second practice of a hot August afternoon when we've got Baylor in two weeks from that point, or something.
PonyFans.com
: Watching some of your throwing sessions this summer, it looks like you're throwing 40, 50 yards and it's effortless. Does it feel that way?
Garrett Gilbert
: Oh yeah. It feels great — I don't ever worry about my shoulder anymore. I don't think about it when I'm out there. I have to warm up good, but I think that's because I'm old (
laughing
), not because I'm coming off of shoulder surgery.

Previous Story
Next Story

| | |
| --- | --- |
| | Former SMU defender headed to Sweden to start pro career |

| | |
| --- | --- |
| | Tackle working through injury, adjusting to new position |